From movies to social media apps, Deepfake technology is used a lot nowadays. Every social media like Instagram, Whatsapp, Youtube, Facebook, and Twitter are loaded with fresh, entertaining memes daily, including many deepfake images and videos. From Barack Obama to Narendra Modi, many famous personalities are there, on whom numerous deepfakes are being made till now. If anyone sees these deepfakes, it becomes so tough for them to guess whether they are real or fake. It is difficult to understand whether to call it deception or reality? There are many deepfake apps and websites available. It is okay to use Deepfake apps to the extent of an entertaining purpose; otherwise, it can also be a big danger. Let us know about Deepfake.
What is Deepfake and how it works?
Deepfake is a technology that uses Machine learning which is a form of Artificial Intelligence. Many deep learning algorithms are used to solve problems when large sets of data are given. These data sets are used to swap faces in videos and digital content and make it look realistic. Here is a list of 12 best Deepfake apps and websites you can use for fun and entertainment.
Note: All the Deepfake apps and websites in the list below are meant to be used only for an entertaining purpose. Please do not use them for any illegal or harmful purposes.
1. Zao
Zao is a Chinese app with excellent features. This app can transform your face into any celebrity's face. Through Zao, in a video, you can swap your face with any celebrity's face. This app got so popular that it went viral a few hours after it was published on the App Store and the condition was that the app's server crashed due to high traffic. Some experts expressed concern about this app, saying that the face can be changed in any video or photo using it. In such a situation, confusion can arise, whether the person in the video or image is real or not.
After downloading this app, you have to create an account and upload your photo. After this, by choosing one of the celebrities' videos shown on the app, you can show your face in the place of celebrities seen in the video. You can swap your face in just a few seconds, but the algorithm is trained primarily on Chinese faces. So you may not look as natural as you expect. Zao app was released only in China for both Android and iOS users. So, you can't use it because for signing up, it requires a Chinese phone number.
Note: When Zao was released, the agreement stated that the images created on it can be reused for whatever purpose. Although, the controversial statement was retracted after so many criticisms. Therefore, it doesn't have a privacy issue. Still, if you are concerned about your privacy, it is advised not to use the app at all.
Install: Android / iOS
2. Avenge Them
Avenge Them is a website where you get an option to select a Gif of your favorite superhero and put your own face in it. For this, first, you have to go to avengethem.com. There are about 18 Avengers Gifs that are available. These include Black Widow, Star-Lord, Ironman, Captain America, Black Panther, and many other characters. First, you have to select a gif. After this, you have to upload your selfie by clicking. In some seconds, your face will replace by a superhero in a Gif. You can also download and share it. This website is not a complete deepfake because it creates a static 3D model of the face.
Also Read: List Of Best Apps For Audio Recording
3. Reface
The Reface app is an app that lets you swap your face with any of the celebrities and create memes. Using the Reface app, you can use the face of any celebrity. You can create a funny or entertaining video using your face. People have various favorite celebrities, so you can also see if you are that celebrity then how you will look. Earlier, Doublicat was the name of this app, but now its name is Reface app. This deepfake technology is more than just swapping your face, which is based on refacing AI technology. Your selfie is mapped to another face in the most realistic way you see it, along with explaining facial expressions and moves that really look like you.
Reface app is available on the Google Play Store and iOS. The size of this app is also only 11 MB. After downloading the app on your phone, there is no need to create an account in this app to use it. You can use it very easily by putting your face on any celebrity's face; you can make videos and also share them on social media.
4. Deep Art
Deep Art helps you to convert photos into famous fine art paintings with the help of AI. It is free to convert images into paintings, and it also has art filters. There are more than 50 art styles that are available to choose from. It makes your photo look like an utterly watercolor painting. You can also share your unique artifacts on various social media platforms like Instagram, Facebook, or Twitter. It can turn any photo into the artwork by using AI.
5. Jiggy
Jiggy is an app by which you can create a dancing video of any photo. To create a dancing video, you have to download the application first. After downloading it, as soon as you open this application, you get a simple interface to click someone's photo through the camera. You also get the option of the album from where you can select and upload the pic. After choosing the image, you have to choose the dancing steps below. There is a massive collection of dancing steps; you can select whatever dance steps you like. After you select the dance step, a dance video of whoever is in your photo gets ready, and it takes 5 to 10 seconds only.
6. FaceApp
FaceApp is a free app that has become very viral in recent times due to its unique features. At the same time, this app makes full use of artificial intelligence. The best thing is that you do not have to pay any money to use this app. This app is currently on number one in around 121 countries. Not only Android but iOS also has its demand. With this app, you can make pictures more creepy, hilarious, and weird with filters. This app can use photos from your phone library or take pictures using a camera directly from the app.
7. Deepfakes web β
Deepfakes web β lets you create deepfake videos on the web. It is a web service that uses deep machine learning, absorbs various complexities of your face, and stores the data. Just upload two images or videos and create a deepfake video using its built-in algorithm based on AI. It is a bit long process as it takes 5 hours to train on how to create images and videos using it. After training, you can use it and make excellent and realistic deepfake images and videos. Although it has a powerful GPU on the cloud, it can still take some time to render.
8. MachineTube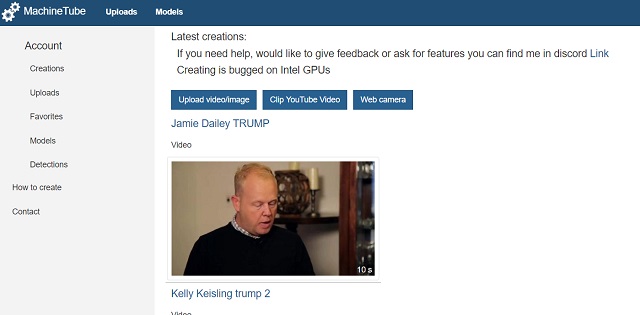 MachineTube is a website to create deepfake videos on your PC. As Deepfakes web β uses cloud computing, MachineTube doesn't require to use it. It just requires two things: A powerful PC with a high-end GPU and 2GB of VRAM at least. Its processing time to make a deepfake video depends on your system's resources ultimately. To process the image data, it uses a highly advanced deep learning algorithm. After you upload an image, video, then MachineTube starts to swap the faces. It is available for free. Just explore it and try it for fun.
9. DeepFace Lab
If you are a researcher and a technical student in the computer field, you should definitely check out DeepFace Lab. It is a Windows program using which you can create deepfake videos. If you want to learn and explore more about the deepfake concept, this tool is best for you. Using deep machine learning, it replaces faces in videos, and it also uses human image synthesis. As DeepFace Lab is an advanced tool primarily built for computer vision students and researchers, it is not easy to use it like many other deepfake apps and websites. Firstly, you need to learn to use it only then you can use it easily. It also requires a powerful system with a high-end GPU.
10. Face Swap Live
Face Swap Live is not a proper deepfake app, but it allows you to switch faces with your friends or a photo in real-time. It lets you record videos, apply stickers, and post them on social media directly. It doesn't use static pictures as some other deepfake apps do; instead, it allows you to switch faces live from your camera's video. There are many 3D effects available also. It is a fantastic app if you want to do some fun with your friends and relatives using camera video live.
11. Morphin
Morphin app turns your face into memes and fun Gifs that look funny. You can download it from Google Play Store. After downloading and opening, you have to log in to it—login it from your email id only. Then you will see some of its demos. After that, you will see a lot of Gif samples available on the screen. You can make any Gif with your photo. Select one of your pictures, and after that, you will have to click on any of the Gif samples. It just needs a few seconds, and you will be ready to become a GIf with your face. You can download it and also can share it on your social media. Try it and create your CGI Gif animation video.
12. SpeakPic
SpeakPic, as the name indicates, "the picture speaks." It gives life to faces in images using AI. There are several voice options available for you. You can type a text, and the app can transform it into speech. You can choose a voice from the voice list and can reproduce your words. This app supports many languages, and most of them have voice options. But it depends on gender and an accent. You can access many filters that can make your animations more flawless. Just upload an image, create its animation and share your masterpiece on social media.
MUST-READ: 15 Best Chrome Extensions Reddit, Check Here The List