"Stranger Things" will undeniably be your favourite web series on Netflix. Millie Bobby Brown's name must have come to your mind as soon as you heard about Stranger Things. "Stranger Things" star, Millie Bobby Brown, born on 19 February 2004, is a British Actress, Model, and Producer. Millie is the most prominent and young artist of today's new generation. She is already a millionaire who has earned such a huge name at just 16. Netflix Star Millie Bobby Brown Net Worth is something that most people want to know. Assuredly, her stunning performance has made her the recipient of various magisterial awards at a young age.
All about Millie Bobby Brown's Life
Millie Bobby Brown was born in Marbella, Spain, to British parents, but brought up in England. She is currently living in London. Millie has three siblings, and she is the third child. She has acquired an excellent position from a prominent actress to a glorious model and now a superb producer at a very young age. Millie is well known as "Eleven," the role she played in Netflix science fiction series named "Stranger Things." She gained popularity from this series at just 12. Millie is now 16 and has procured a lot of fame at this age already.
How did Millie Bobby Brown get famous?
Millie Bobby Brown has become a teen-queen of Hollywood. The 16-years-old is among the top youngest actresses today. In 2017, Millie was the youngest Emmy nominee, and she was also nominated for the "Outstanding Supporting Actress" in a Drama series. Before starting her acting career, Millie was just a normal kid as anyone trying to get into the acting world. The eight-year-old London native moved with her parents when she learned that she wanted to pursue a career in acting. Millie never took any acting classes though, her parents obliged. In shows like Modern Family and Grey's Anatomy, Millie secured a few guest spots.
She played a lead role in the one-off season of BBC's Intruders before landing her iconic role in "Stranger Things." Millie's parents helped her a lot in this journey. As per some sources, to help her become an actress, they sold everything and moved to Hollywood. After landing the iconic role of "Eleven," she achieved immense success and won people's hearts. Before the actress finally landed her role in "Stranger Things," her family went through some tough times, according to Millie. Now, she is at the stage where everyone loves her, and indeed she will continue to grow and move towards more progress.
Career Highlights of Millie Bobby Brown
Millie is mostly famous for her role as "Eleven" in Netflix's 2016 series "Stranger Things," but her acting career started in 2013 with "Once Upon a Time in Wonderland" as a guest star.
Hereafter, she played the role of Madison O'Donnel in "Intruders."
Millie also appeared as giving guest appearances in "Modern Family" and "Grey's Anatomy."
She also featured in many music videos after "Stranger Things."
She also performed in Sigma and Birdy's "Find Me" and "Girls Like You" by Maroon 5.
Apart from acting, Millie is also doing modeling. With Calvin Klein's "By Appointment" Campaign, she made her modeling debut. Afterward, Millie appeared in the Moncler campaigns.
In 2019, Millie featured in "Godzilla: King of the Monsters." She undoubtedly will be seen in its sequel "Godzilla vs. Kong."
In September 2020, Millie's Netflix film "Enola Holmes" released.
How many Awards has Millie Bobby Brown won so far?
Millie Bobby Brown nominated 26 times and won 13 awards till now. The list of Awards that Millie Bobby Brown has won includes "Breakthrough Performer of the Year 2018", "Best Dramatic TV Performance", "Best Young Ensemble Cast: Television Series", "Best Actor in a Show", "Favorite Female TV Star", "Best Performance in a Show", "Outstanding Performance by an Ensemble in a Drama Series", "Choice TV Actress-Fantasy/Sci-Fi", "Favorite Female TV Star", "Choice Summer TV Star Female", "Favorite TV Actress". It is incredible to win so many awards at such a young age.
Millie Bobby Brown Net Worth: What is Millie Bobby Brown's net worth?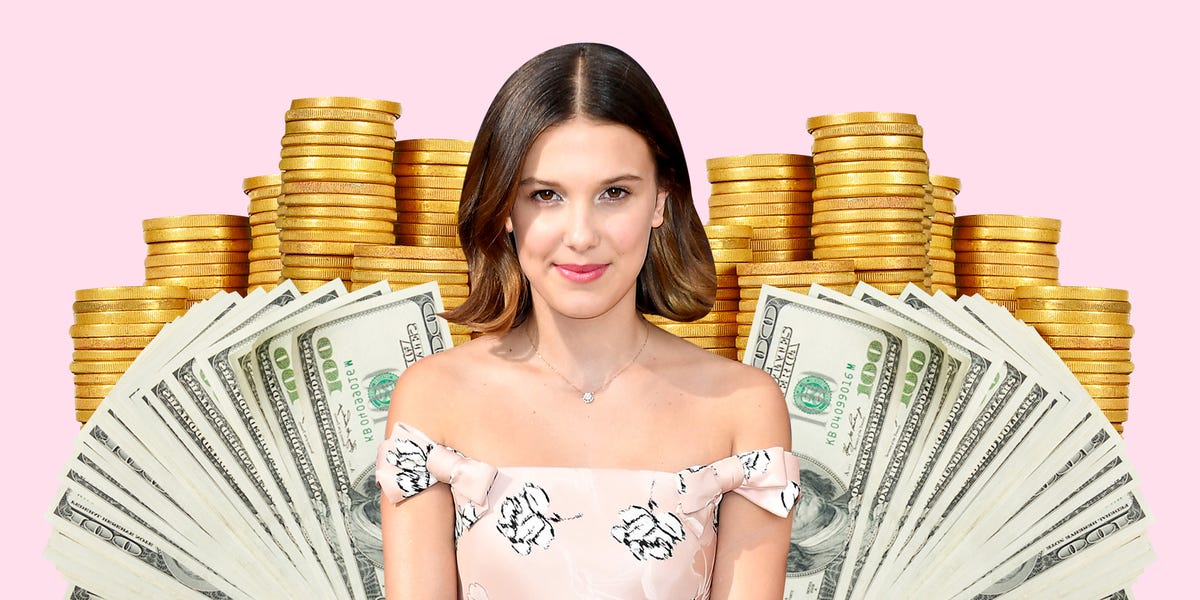 According to TMZ, in 2020, Millie obtained a contract worth $6.1 million for the Netflix film "Enola Holmes", which ensured that if the film becomes a hit, she will get a bonus of $800,000. As per reports by Celebrity Net Worth, Millie's net worth is reported to be around $10million (£7.8million) as of 2020. This figure will dramatically increase the Netflix show's fourth series and her growing popularity.
How much did Millie earn with "Stranger Things"?
Millie is the highest-paid actor in "Stranger Things." It is reported that the actress earned about $30,000 (£24,000) per episode for the first and season of "Stranger Things." After the huge success of the show, the salary of the cast increased enormously. According to Fox Business, the actress earned $350,000 per episode for season 3. As reported, in 2019, Millie was paid about $1,000,000 for her role in the movie "Godzilla: King of the Monster."
What else does Millie do to make money?
Besides acting, Millie also earns a pretty penny like many other celebrities. She has signed contracts for modeling and done deals with enormous brands like Moncler, Converse, Calvin Klein. She announced a collaboration for the Sims 4 with EA Games in November 2018. In 2019, Millie started her own business by launching her own makeup and skincare line, Florence by Mills.
Millie Bobby Brown is already a Millionaire at 16-Here is how she is spending her money.
Millie has a net worth of $10 million already, and that too, just as a teenager. If you were earning this much as a teenager, where would you spend it? "Stranger Things" actress is spending her money on lavish cars, luxury mansions, branded clothes, designer bags, donations. Yes, you heard it right. Donations.
Millie is also sure to give back the fame that she has gained at this young age. She raised a donation amount of US$40,000 through her beauty brand Florence by Mills for the Olivia Hope Foundation. Recently, in the Covid-19 pandemic, she also donated around US$20,000 to UK frontline workers to support them through the pandemic.